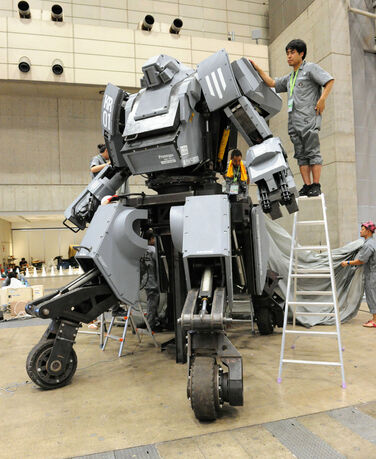 What is a Kuratas
Edit
The basic Kuratas has no additional parts or weapon systems of any kind.
The Basic Kuratas is called a KR-01.
Every additional weapon system, feature, or part costs thousands of dollars extra the lowest costing add-ons are around $600.
An unedited Kuratas costs $1,353,500 USD
Kuratas Weapon Systems
Edit
Iron Crow (Robotic Hand/Claw)
Dual Gatling Guns (Fires 6,000 BBs a minute)
Iohas Launcher (Fires Water Bottles and is the least accurate weapon)
Kuratas Handgun (Double Barrel Gun) (Ammunition unknown but probably fires water bottles or simply water)
Organic Rifle (Not much is known)
Kuratas Parts
Edit
Additional Features
Edit
4 different seat materials (Corduroy, Artificial Leather, Leather, and Cotton)
Basic Ammunition
Edit
V-Sido is what is used to control a Kuratas.
This system allows for simple point by point control that can be based on dual motion controllers or touch screen.
The easiest way to control a Kuratas is through motion control or touch screen.
V-Sido's motion control uses two joysticks that represent the mech's arms.
Basic Specs
Edit
Smile Control Firing (Smile Shot)
Phone Connector (Allows for you to make phone calls while piloting your Kuratas.)
Head Protector (Helmet with visor and microphone)
Convoy Guard (Protective armor for the wearer)
What its like getting inside a Kuratas
Edit
Outside the mech is a button that opens the cockpit.
From inside the cockpit you press another button to close the cockpit door.
When the cockpit door is closed you see a television display that shows you what the mech's head mounted camera can see.
Inside is a touch screen controller and a smaller version of the mech that when is posed poses the actual mech suit.
Kuratas Video Manual
Edit
http://www.youtube.com/watch?feature=player_embedded&v=2iZ0WuNvHr8
Weapons Control
Edit
Weapons are controlled based on an Auto-Alignment system and facial recognition control.
The Kuratas will automatically target for you as long as your target is in view of the head mounted camera.
By smiling you command your Kuratas to fire at its currently locked on target.
The Auto-Alignment targeting system tracks moving targets and should always hit its mark, however accuracy is dependent on your Kuratas custom weapons systems.
http://www.youtube.com/watch?feature=player_embedded&v=I9LtTLQK4ps
https://en.wikipedia.org/wiki/Kuratas
http://tvtropes.org/pmwiki/pmwiki.php/Main/PileBunker
http://en.wikipedia.org/wiki/BB_gun
http://venturebeat.com/2012/08/01/13-foot-high-robot-kurata/
Ad blocker interference detected!
Wikia is a free-to-use site that makes money from advertising. We have a modified experience for viewers using ad blockers

Wikia is not accessible if you've made further modifications. Remove the custom ad blocker rule(s) and the page will load as expected.