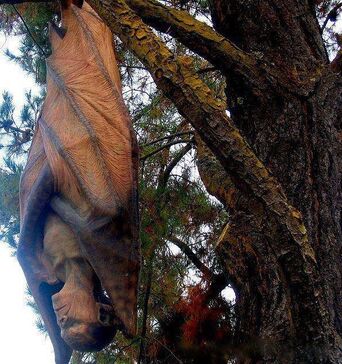 How to Cast the Spell
Edit
Say the spell aloud at night or at dusk. It does not matter if you are inside or outside.
The Spell
Edit
1.) Say "By the secret of the dark and the song of moonlight,cloak me with a (Type of bat's) wings and transform me at the dim of each day's light."
2. Imagine yourself turning into a bat, will it to happen.
3. You will transform at sunset every day and then transform back at dawn.
Effects of the Spell
Edit
The effects listed are the only effects you can receive from doing this spell.
Effects of the Spell

| Beneficial | Negative |
| --- | --- |
| Two sharp fangs will grow in the front of your mouth. (Your Maxillary Canines sharpen) | Back,shoulder and arm pain. |
| Perfect Night Vision. | A craving for whatever your breed of bat eats. (This can be good or bad all depending) |
| You transform every day at sunset and transform back every morning. | Anxiety when your in a bright area. |
| | Skin burns more easily. |
| | |
http://www.spellsofmagic.com/spells/beauty_spells/body_spells/13489/page.html
Ad blocker interference detected!
Wikia is a free-to-use site that makes money from advertising. We have a modified experience for viewers using ad blockers

Wikia is not accessible if you've made further modifications. Remove the custom ad blocker rule(s) and the page will load as expected.